Developing skills in the use of digital tools.
Our project Norbridge Digital Classrooms was designed to promote pedagogical innovation considering students the true protagonists of the new construction of knowledge, developing the skills necessary to use digital tools, presenting and manipulating information and with the implementation of collaborative work aimed at improving the learning possibilities and the domain of the digital culture codes.
Colegio Norbridge opened the first digital classrooms in Argentina in 2008, within the framework of a bilingual project. This process implied teachers' training on the integration of technology and contents, guided by the UNESCO standards that had been recently written at that time.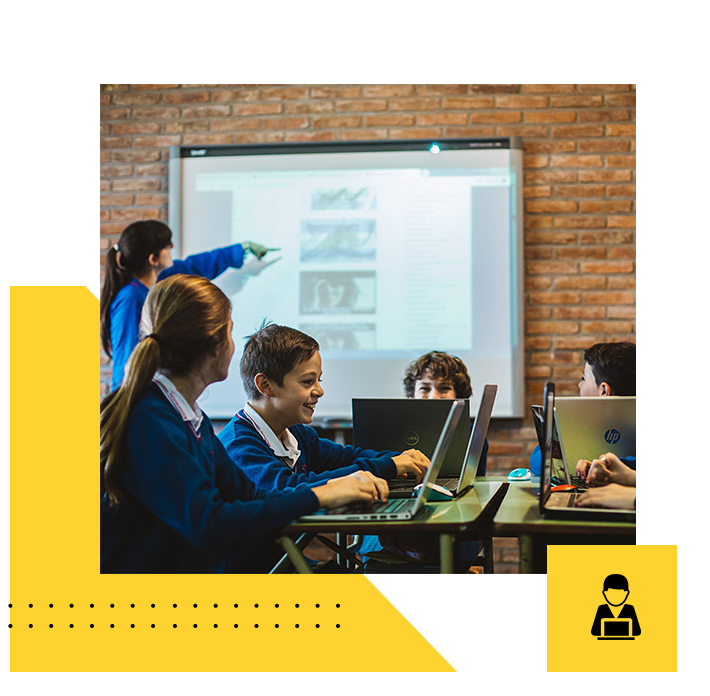 The One Laptop Per Child (OLPC) also known as 1:1 model was implemented. In this model each student brings their own notebook and connects it with the teacher's notebook by means of a server. Moreover, there is a PC connected to a projector and to an interactive whiteboard that, as an addition to the usual blackboard, allows the use of images, videos, sounds and games, and the whole process can be saved in a file that can be sent to the students. This teacher-student communication is done via an education platform divided by subjects, where each professor incorporates resources and proposals creating virtual communities whose members can interact from wherever they are. This makes it possible to go on with the lessons when students are absent because of a trip or sickness.
Students start taking part of the digitalization project at 5th grade of the primary education level and continue doing it until the 6th year of the secondary education level. The students from the initial level to the first cycle get gradually acquainted with the use of a multimedia room designed for the development of contents leading to improving the learning experiences by means of a variety of media (videos, images, sounds, simulation, animation, etc.). This proposal does not imply leaving books and folders aside: a new virtual scenario complements traditional resources.
Throughout this project, the education center was characterized by the implementation of education blogs and collaborative work with other education centers, which lead to many awards and to the confirmation of the search for new learning ways.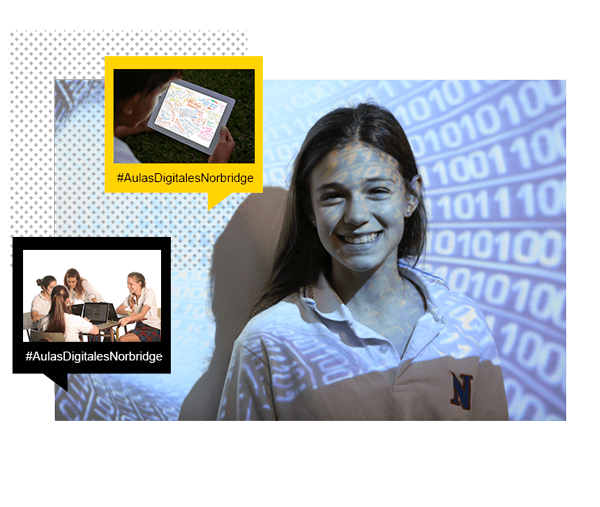 Finalist of the Educational Blogs 2010 contest by Intel.
Award to best collaborative project in education Innovation between countries given by Fundación Telefónica de España 2012 – Mirando al cielo. http://astrochicos.wix.com/eluniverso
3rd prize to best center blog in the 6th edition of the Premio Espiral by Edublogs 2012, Spain, organized by Espiral and Fundación Telefónica. http://chicosdequintotrabajando.blogspot.com.ar/
2nd distinction of the UBA 2012 Awards in the Edublogs category for http://chicosdequintotrabajando.blogspot.com.ar/
1st distinction of UBA 2014 Awards Edublogs category for http://colegionorbridge.blogspot.com.ar/
Interfaces 2015 award given by Universidad de Palermo, category Significant classroom experiences to the collaborative project "Emigrando mares" (emigrating seas).