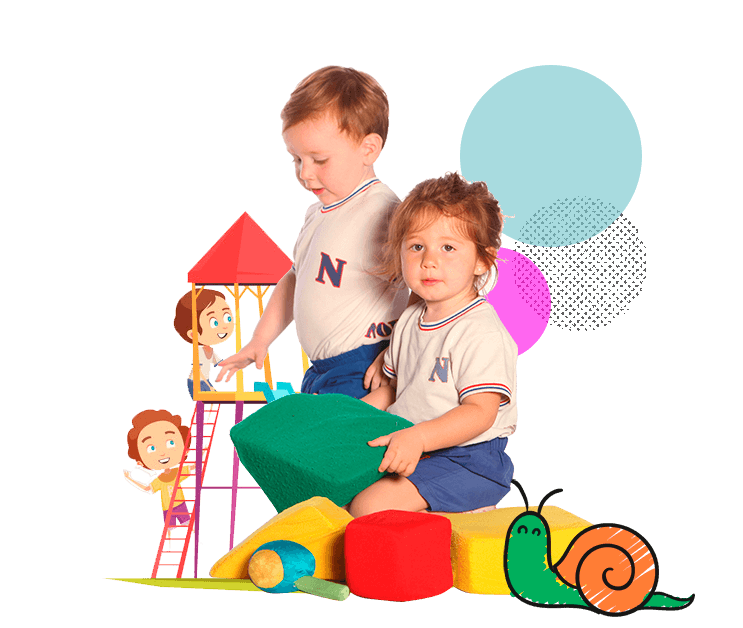 Number of classes:
2 years room: Morning shift or full school day. Spanish and integrated English.
3 years room: Morning shift or full school day. Spanish and integrated English
4 years room: Mandatory full school day. Spanish and integrated English
5 years room: Mandatory full school day. Spanish and integrated English
Timetable:
Morning shift: 8.00 a.m. – 11.50 a.m.
Full school day: 8.00 a.m.- 4.30 p.m.
Children attending full school day can choose the school cafeteria service or bring their lunch.
Annual events:
Didactic tours related to the learning project.

Multiple Intelligences Cross.
World General Information.
Chess
Events' anniversaries: we celebrate local festivities to learn about important historic events, by means of values education.
Family day: recreational event held to integrate the families with the education institution.

Annual project: a content is learned in a transversal way throughout the year. Topics are chosen in relation to the World General Information contents and the aim is to raise students' awareness of the cultural expressions that are part of the world around them. For example: "A trip to indigenous peoples" within the framework of the UN's International Year of Indigenous Languages (2019 Annual Project).

Annual Art Exhibition: as a closure to the Initial Level Pedagogical Project, we hold an art exhibition of the works of our students from the 2 years room to the 5 years room.

Annual Concert: Annual Concert: all students belonging to the 5 years room take part in this event singing, dancing and performing in English. It is part of our institutional project, by means of which we intend to offer our students the chance to discover and develop their artistic talents. Peter Pan, Madagascar and Toy Story are some of our past concerts.
Early Reading stimulation program
Graduation Ceremony
Interactive patios
Open lessons.

Children's Day.

First Grade Articulation.

Healthy Breakfast.

Emotional Intelligence Project
Participation at various children shows in the school: puppets show, musicals symphony orchestra, among others.
Nuestro proyecto pedagógico
Our pedagogical project, which takes place between 2 and 5 years of age, is based on six pillars: the adequate stimulation of all psychomotor functions underlying learning, the development of linguistic skills, the early initiation of the reading process, the early exposition to mathematical situations from real life, the implementation of didactics for the students' approach to World General Information and the approach to the world of technology.
The initial level is developed in a pleasant and safe environment where, by encouraging research, critical, reflective and responsible participation, children can interact and discover.
Early Reading Stimulation Program
Since children are immersed in a literate world, our project proposes an early reading stimulation job. We accompany the children on the path of decoding, through meaningful and contextualized activities in attractive work projects fit for each age group. By means of various educational proposals and contact with literary texts we create in our students the need to read, and we encourage an enthusiastic attitude towards this activity.
World General Information
From an early age our students are in contact with national and international events; this way children learn to engage with reality and acquire the ability to analyze facts in a critical way. When children are informed, they get to know and value other cultures, internalize science developments and are surprised by new discoveries. The World General Information material in the first levels generally includes topics related to nature, ecology, sports and different artistic manifestations.
Multiple Intelligences Cross
This didactic strategy offers children the possibility of participating in stimulating activities according to their talents, skills and interests. Every month different crosses responding to the different intelligences are held. Rooms 3, 4 and 5 participate in an integrated way.
Healthy breakfast
Once a week, a special breakfast offering a different food alternative is held. The objective of this proposal is to give children the possibility of incorporating other types of healthier foods.
Emotional Intelligence Project
The skills that lead us to a full life are not intellectual but emotional. Learning to regulate our emotions and those of people around us is an educational goal. How children feel about their learning experiences should be as important as what they learn. The school takes on the responsibility of educating.
English
Starting in the 2 years room, English language is taught by means of games, songs and role play, with the aim of familiarizing children with the language in a natural way, until reaching bilingualism in the 5 years room.