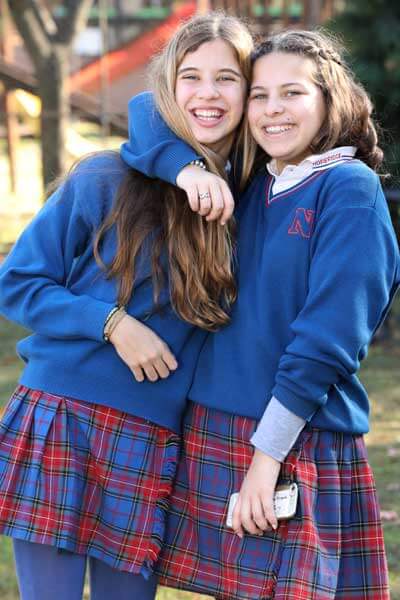 Number of classes:
1st to 5th year: Full school day. Morning shift: Spanish. Afternoon shift: English
Timetable:
Entry time 7:45 a.m. Midday recess time varies according to class load. Mon-Fri school finishes at 5 p.m.
Annual events:
Vocational Awakening Association of Economic Sciences Professionals
Vocational Awakening Cardiovascular Institute of Buenos Aires
Sports tour to Mar del Plata
Annual exhibition of Norbridge Writes
Road Safety education talks
CPR training
Short story and poetry contest Colegio del Arce
Mathematical Olympiad
Mateclubs, OATec (Technology Olympiad – UTN)
Mobile apps workshop
Comprehensive Sex Education (ESI) Sessions
Cybersecurity talks, participation at the School Bands Contest (EMBA)
Annual visit to the Holocaust Museum, as part of the projects on discrimination and xenophobia
Trip to the UK, Middle Level exhibition.
The mid-level project is based on the new challenges that a changing world presents us, continuing with our innovative vision, from a stance that differs from current attempts in which changes are only superficial, and implementing those key elements of the new trends and experiences that develop children key skills.
– Development of complex skills through the systematization of concepts, procedures and values, emphasizing the understanding of global concepts that influence today's world.
– The promotion of a comprehensive education that allows us to train children and adolescents in transcendent ethical values, presenting culture as a means of communication and knowledge as a commitment with service, able of being part of a society that develops pluralism and freedom, recognizing that common and diverse qualities coexist.
-Recognition as values ​​that support and guide our educational action: freedom of thought, judgment, feelings and imagination; responsibility as the ability to assume, accept and coordinate harmoniously and effectively, their own responsibility with others; active participation and critical awareness. To reach this aim, we are developing a radio workshop, in which our students express themselves and recognize different elements of communication. Students can also articulate secondary subjects with a project in 5th year.
In our secondary school and in the primary level, English is taught four days a week in the afternoon, continuing with the communicative approach. Our main objective is to prepare and train students competent in all language skills, through critical thinking and interdisciplinarity.
We encourage each student to reach the level that best suits their potential and personal development, so our department is divided into five levels that go from B1 + to C2 of the Common European Framework. Our students have their levels certified by the University of Cambridge as they sit for different exam levels (First Certificate in English, Certificate in Advanced English and Certificate of Proficiency in English).
In addition, we work with projects integrated across courses in which students demonstrate endless connections with themes and issues around the globe. This is also done with the preparation of the international BEC (Business English Certificate) exam that gives students the necessary tools to be prepared for their future.
Our bilingual curriculum encourages natural language acquisition, allowing our students to be able to connect with any person in the world, not only orally but in writing, using the linguistic skills necessary to face a global context.