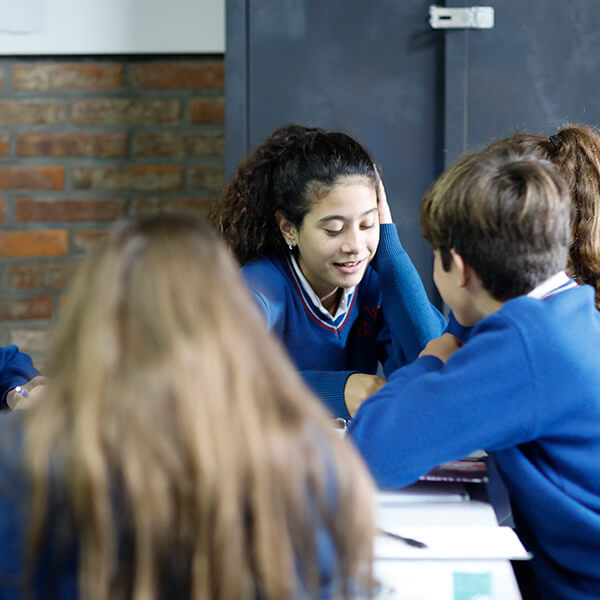 Number of classes:
From 1st to 6th year: complete full school day.
Integrated bilingual project
Timetable:
8:30 a.m. – 11:45 p.m. Morning shift
12:30 p.m. – 4:45 p.m. Afternoon shift
Annual event:
Sports Days, Family Day, Annual Fair, TED Ed Clubs,
literature exhibitions, organizational project presentation.
In the 4th and 5th year of the Secondary Level, our students have the possibility of taking 3 and 4 subjects respectively by accessing the corresponding certificates of the International General Certificate of Secondary Education (IGCSE). If seven IGCSE subjects are completed, they reach the International Certificate of Education (ICE).
The Secondary Education project is aimed at training young people to face the high demands of the current century. Its objective is to prepare students for university life and for a changing and globalized world of work. Our student profile is aware of their social responsibility and has a lifelong learner attitude.
Our project focuses on the development of skills that enable: problem solving, critical thinking, creativity and innovation, assertive communication and socio-emotional skills, in tune with the student profile promoted by the University of Cambridge (Cambridge Assessment): sensible, responsible, innovative, committed and self-confident.
Colegio Norbridge grants its graduates, according to the New Secondary School, a Bachelor's degree with a major in Economics and Administration or Social Sciences.
In order to provide our students with an external endorsement of the levels achieved in English language proficiency, we offer them access to the exams by Cambridge Assessment International Education, one of the most prestigious organizations worldwide.
A set of activities enable the development of our educational project.
Digitized Classrooms
Digital education brings the world closer to the classroom and promotes taking the classroom to the world by interacting in a large learning network, with immediate access to information, which builds a new kind of interaction between the student and the teacher redefining the roles for autonomous and interactive learning. From this perspective, the search and analysis of information, the resolution of problems, and the new forms of communication promoting a digital ethical citizen become relevant.
The secondary classrooms of Colegio Norbridge are equipped with a teacher's computer, projector and interactive screens connected in network with the students' computers.
Students and teachers communicate through a digital platform containing study materials that are integrated with traditional formats, such as the use of books and folders.
Sports and outdoor life
Sports and physical training are focused on the development of different capacities and learning values ​​through physical activity, thus stimulating the development of social habits, teamwork, willingness to improve, discipline and enjoyment of physical activity outdoors. We thus promote the integral development of the student.
The main sports of our education are football (soccer), hockey, athletics and basketball, added to a large number of games and activities that favor the learning of contents, as well as the social and emotional development of the students.
Special activities, interhouse, sports, tournaments and camps offer students opportunities to develop teamwork, character and determination oriented towards the development of an inclusive program.
Interdisciplinary projects based on project learning dynamics
At the end of the first semester, secondary level students present different alternatives related to the different areas of knowledge in an annual thematic exhibition. These projects freely agreed between students and teachers and enriched by the possibilities of interdisciplinary dialogue, enable the implementation of the Learning based on Projects method. All areas converge in following different lines of inquiry that allow focusing, deepening and continuing to provide meaningful contexts to curriculum content. Likewise, this project allows to strengthen the abilities of critical thinking, assertive communication and collaborative work.
Emotional Intelligence and Socio-emotional Skills Development Project
Throughout secondary education, regardless of academic activity, the development of emotional intelligence and socio-emotional skills is cross-curricular. To this everyone is trained and committed to guarantee self-knowledge and emotional self-regulation, students and of all members of the institution. This work implies the practice of socio-emotional skills that consequently become habits.
Thus, firstly we base our work and planning on prevention; secondly, we offer support and guidance for the difficulties of the life period that concerns us.
We guarantee a climate of emotional well-being in our practices that directly affects the motivation and health of our community.
Finally, it should be noted that students have spaces to reflect on their concerns and work on the constitution of their identity and acquisition of healthy habits.
On the other hand, this personalized work provides them with the necessary tools to discover and develop their talents, manage their emotions and overcome their fears.
UN model
The UN Model is a simulation of the United Nations discussion model organized by the Universidad del Salvador. The objective of the program is to have participants develop their communication, negotiation and leadership skills based on values; to consolidate dialogue processes as the best way to solve conflicts, and to obtain a new vision of their own country and of the world, and of the need for individual commitment with the problems that affect society, within an environment of respect for other people's opinions.
Drama Workshop
This is a drama workshop in English for secondary school students and students at the last primary school year offers a comprehensive approach using the body as a means of expression, through dance, singing and drama. Not only do students learn invaluable techniques and exercises that are fun, but they also build their confidence through speaking, skills necessary for all aspects of their lives. At the end of the year they perform a musical and the whole community enjoys the achievements.
Mathematics and Robocom Olympiads
Mathematical Olympiads are international competitions in which students participate individually, solving problems applied to everyday life. The objective of these contests is to develop ingenuity, creativity, invention, and intuition to respond effectively to problem solving and empower students in their future university choices.
Students spend class hours training with teachers to whom these projects are assigned to consolidate their competencies in each area.
TED-Ed Clubs
The TED-Ed Clubs program accompanies students in the discovery, exploration and presentation of ideas in the form of short TED-style talks. Throughout a series of meetings, students develop their own idea, research and learn to communicate it by carrying out discussion and group feedback exercises.
Education in service: TECHO and assistance at canteens offering free meals for children of limited means
The educational community participates in the TECHO program that aims at improving the living conditions of millions of people in settlements. Sixth grade students organize activities to raise the necessary financial resources for the purchase of materials and they make the entire educational community take part. During the weekend, they build a house sharing and generating links with future inhabitants.
On the other hand, every year, they create and manage several solidarity projects, and they invite the whole community to participate.
Department of Vocational Guidance and visit to universities
During the last two years of secondary education, students carry out self-knowledge and research activities, leadership and techniques workshops to explore their interests, strengths, skills, and areas of improvement.
During the last year, they participate in conferences and related activities in universities that have an agreement with Colegio Norbridge.
In an annual event, students participate in the "Future Wise" that is organized according to the interests and related courses of studies of future graduates consisting of the presentation of professional parents and alumni who tell us experiences and answer questions about their courses of studies.
We believe that for an optimal decision of your future career it is necessary: ​​to know the courses of studies, to do research about the universities and have direct communication with professionals who give testimony about their professional role.
General Information / Global News
The Secondary continues with the General Information project initiated at the Initial and Primary levels. Each month, different areas have the responsibility to focus on the news that happened, then the material produced is placed on the billboard and at the end of the month, in an interactive game we test the knowledge acquired.